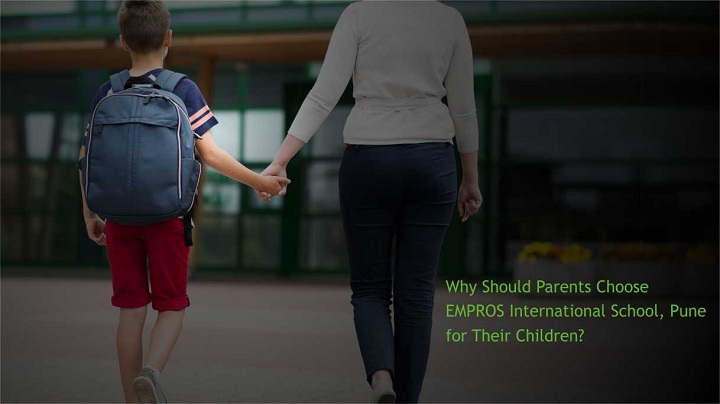 "Education is not preparation for life; education is life itself." – John Dewey
Truly remarked, this quote is the need of today's world. In this futuristic world, where a kid is exposed to many technological gadgets and use it with so much of ease. This generation's kids may have grown more advanced than previous generations,but one statement remains solid and must not to be ignored is that they are still kid and they need a constant perhaps, a different kind of, care. EMPROS International School (EIS) Pune, Incepted by ASM Institute, understands this need of today's generation.
EIS envisions to shape the current education system by implementing an integrated curriculum with interdisciplinary and activity-based learning approach. The school relies on experiential learning with an aim to develop the overall personality of a kid. If one would like to dive a little deeper then here are seven reasons why parents should choose EMPROS International School for their children:
1) Interactive Classroom
EIS utilizes an innovative and comprehensive education solution named as Tata Class Edge which helps teachers deliver best possible instruction with a perfect combination of classroom activities and interactive multimedia. The idea is to improve the social and intellectual skills of a student while giving an in-depth knowledge of the curriculum.
Moreover, the classroom introduces 'Smart Class' concept which is an integration of the 'Touch Screen Board' on the Class Walls making learning – teaching come alive.
2) Labs for Interacting with Subjects
Apart from the computer lab, EIS facilitates the Mathematics and English labs. In mathematics lab, teachers can use charts, models, visual or audio or multimedia aids and interactive activities to teach different concepts. The focus is to generate the curiosity among students so that they can ask more questions.
The English lab provides an open space for students to build confidence in speaking and communicating clearly. It focuses on the pronunciation and the right application of the word in its interactive session.
3) Health and Safety
Health and safety are the two major departments EIS upholds its presence. The school conducts regular checkups in a well-equipped infirmary under the charge of qualified nurses. The periodic checkups for any kid are carried out under the supervision of a qualified doctor. Every child's health is regularly monitored.
4) Beyond Studies
EIS not only believes on the augmentation of mental ability, but on the physical strength and value education. The school has added Yoga in their fitness program for a therapeutic training of students who are often found in stressful situation due to the peer pressure and expectations.
Apart from it, EMPROS is prominent in its effort to teach integrity, ethics and moral value of the students through its Value Education classes.
The school encourages the education outside classroom with an excursions program in which kids are taken to some fun-filled field trips. The tours, what EIS believes, show the basic values of life such as sharing, bonding, caring for others, spirit of adventures and participation.
5) Sports
EMPROS International School Pune has a big campus consisting of a cricket pitch with the net, Half-pitch Football ground, TT court, indoor games zone, jogging track and even playground equipped with the slides and swings and a merry-go-round.EIS helps students pursue sports in the right manner.
6) Transport Facility
In addition to safety and security, EIS provides vehicles with the set route and timely arrival and departure. The management takes responsibility for proper routing with a GPS tracker and maintenance with well-behaved staffs.
7) Day Care like Home
Last but not the least, the day care in EIS is not just a normal facility; it lets the kid play with various learning and creative toys. The school understands the responsibility of caring a child which is not just playing but gives them a platform to develop their experience of this world as science has shown that babies start growing, learning and assimilating right from the time they are born.
While these seven reasons wouldn't tell the grass root level of efforts EIS make for creating the best environment for kids but it sure gives the bigger picture. With this glimpse, now you may decide whether you would like to admit your kids in EMPROS International School or, not?