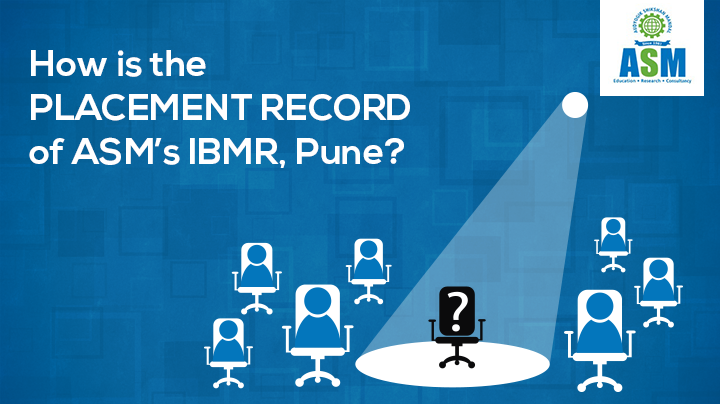 Nowadays, every aspirant considers placement as one of the most important criteria to shortlist any college for his/her studies. Each one of them wishes to enrol in such a college that can help them get placed and secure their dream job. But we would suggest that you shouldn't consider only placement as the criteria to shortlist any college, as your learning performance and confidence also play a vital role in getting you placed. Further, it's the task of your college to invite companies and create ample opportunities for placements.
When it comes to placement ASM's IBMR, Pune is the one of best colleges to enrol with. Eager to know how? Then read on.
Aim of ASM's IBMR
ASM's IBMR is not just focused on providing degree and certification, rather they have an aim to introduce every student into the industry.
Some Key Facets of ASM's IBMR
ASM's Institute of Business Management and Research (IBMR) is approved by AICTE, Government of India and is permanently affiliated to Pune University
They have an excellent placement record with over 60K+ alumni placed across the globe in various functions, sectors and levels
They groom the students to be global managers and be aware of every prevailing trend in the industry.
Also they we have taken various initiatives for achieving the same.
Initiatives Taken
They offer live projects and internship (summer and winter) through corporate tie ups all over India and abroad.
Students are given opportunities to exchange their ideas and interact with leaders of the industry.
Study visits are organised to prominent places such as Chambers of Commerce of in India and abroad, etc.
The curriculum is designed and updated regularly keeping in mind the current global trends
Expert faculty members from universities of different countries visit IBMR to conduct sessions
Seminars and lectures are conducted by global experts on various subjects on a regular basis
Recent Placement Record
ASM's IBMR is focused towards achieving the best placement record sand the same is reflected through the following statistics:
Within last 5 years, the highest package offered to students has increased from 4 Lacs to 6.35 Lacs
The average package offered has increased from 2.8Lacs to 4.2Lacs
The number of companies arriving for campus drive has increased from 101 to more than 200 in the last 5 years
The number of job fairs and placement drives conducted every year has increased from 5 to 8
Corporate Testimonials
The students of IBMR are placed in some of the most reputed companies across the globe. Also,these companies have given great feedback about the performance of the students of IBMR. Here are a few of those:
ICICI Bank: Students have good conceptual knowledge and are aware of the finance domain we are looking at.
VIP: Students are great in communication. Campus recruitment is well managed by placement team.
Reliance: All students are very informative. Their level of understanding of the subject matter was also good.
KPIT: The students of IBMR are very sturdy in their technical knowledge, and they are performing well in all the areas which they are working together with our team. We are very glad to have appointed the student of ASM Group of Institutes
Over to You
ASM's Institute of Business Management and Research (IBMR)is growing fast and offering ample opportunities to the students. To know more you can visit http://www.asmibmr.edu.in.
Related Links: