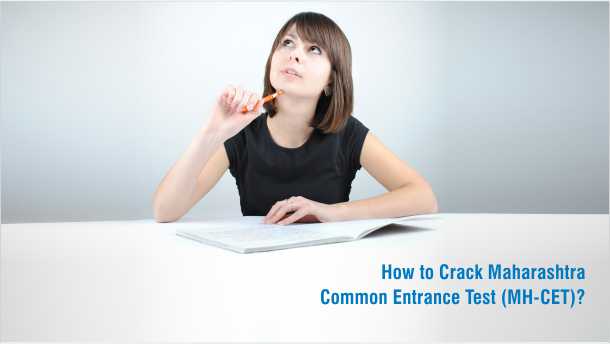 Do you want to crack Maharashtra Common Entrance Test? Searching the best guidance for preparing MH-CET 2018? Then your search ends here.
In this blog we'll clear all your doubts about the latest notifications, exam pattern, syllabus and of course will provide some of the best tips on how to crack MH-CET. Let's proceed.
About MH-CET
 MH-CET stands for Maharashtra Common Entrance Test
It is an annual entrance exam that is conducted by the Government of Maharashtra for admissions to MBA,Engineering,University Departments, University Managed and Unaided Institutes in the state of Maharashtra, India.
DTE Maharashtra will conduct MH-CET 2018 tentatively in the 2nd week of MAY
Online application forms will be available from the 2nd week of February to the 2nd week of April 2018
Applied candidates can download the admit card from the 4th week of April 2018
Candidates have to fill their Aadhaar card details while filling the application form
NOTE: The mentioned details are in reference to last year's official MHT CET Notification. It will be updated soon as MH-CET Notification 2018.
How to Crack MH-CET?
Tip 1.
Aspirants should have a thorough knowledge of HSC or 12thstd. syllabus (suggested as a primary priority) and 11th syllabus (suggested as a secondary priority). As 80% weightage is devoted to 12th syllabus and 20% weightage to the 11th syllabus.
Approximate Number of Questions:
12thSyllabus: 40 questions (application based questions)
11thSyllabus: 10 questions (application based questions)
Tip 2.
Appear for Mock Tests:The very first step to crack any entrance exam is better preparation. And to analyse your abilities on different aspects, appearing for mock tests will help a lot.This will let you know the pattern of exam.Also, it will give you confidence on how efficiently and devotedly you are into the subject and can accordingly prepare to perform better. The marks according those tests will help you get quick analysis for last minute preparation. NOTE: It will be better to attend 10 to 15 mock tests before appearing the actual exam.
Tip 3.
Look into Your Strong and Weak Areas:If you have solved a number of mock tests with full devotion and interest, then you must get an idea about your strong and weak areas, like:
• How much time do you take to solve each section?
• Which subject is your strong area and which one is weak?
• The total percentage of questions attempted correctly, in each section
• Total questions left un-attempted
If you are clear about the above-mentioned then you have already created a strategy before appearing your main exam.
NOTE:For example, if chemistry is your strong area, then attempt this section first. This will help you build your confidence in the exam hall. And, be least bothered about or leave your weak areas for ending process.
Tip 4.
Previous Years Question Papers Will Help:The best way to know the exam pattern is to be thorough at least 2 to 3years question papers. This will help in analysing the difficulty level of the exam.
NOTE: Try to solve them with a certain time limit. This will help you to know your ability in terms of speed and time.
Tip 5.
Revision and Discussion:This will be the last part of your preparation. It is better, not to touch new topics during your revision session. As this will leave you clueless and you may kill your precious time in knowing new things. Keep at least, your last 15 days for revision purpose and devote your time with full concentration only on revising.And if possible, discuss with past students whenever you get time. They can help you with your last-minute preparation.You can also get some inspirations from them.
NOTE: Having a clear idea of the formulas and concepts will help rather than rote learning for the papers.
Hope you find the content enlightening, and it helps you get a good idea on how to crack MH-CET. We wish you all the best for your preparations.